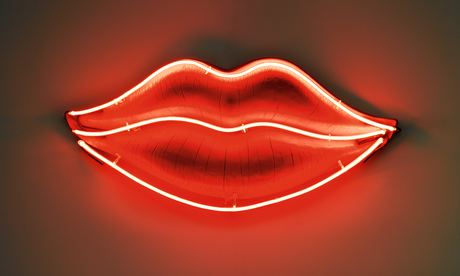 'I've yet to meet a person who can vibrate at 120hz. And there's something to be said for that, you know? Technology will offer a level of pleasure that is higher than the real thing.' Photograph: Sara Morris for the Guardian
As part of the class I just finished on Theology and Culture, we spent a couple of weeks discussing physicality in the 21st century, exploring the various dimensions of what it means to be human in the world today. What was quickly very obvious was the lack of awareness that most seminary students, with a rather well-formed and hardened against-the-culture-theological grid, had about what has happened and is happening to us over the past century. When you have to underscore the importance of Freudian theory to our self-understanding, the developments in psychotherapy and analysis, neuro-science, cyborgs, avatars, the new relations between the physical and the non-physical, gender, indentity and sexual orientation, the Pill, the various sexual revolutions of the 20th century, changing family shapes and values, before you can begin to have a halfway decent conversation about how there might be theological discourse and dialogue around these issues, you know that there is a long way to go.
As part of that class we took a look at some of Spike Joneze's movie, Her, about the relationship between a man and his computer programme (think hyper-developed suri and youd be close) in the nont-too-distant future. The film explores love, sex and relationships in the light of new potentialities--digital relations and raises questions about whether or not one could conceivablt 'fall-in-love' with computer software-the film answers yes,. Of course, this in turn, raises questions about the whole notion of love and romance and its contribution to the development of relationships, which is itself a fairly recent (13+14th century-courtly love etc.) development.
There was lots to talk about and surprisngly little from the theological side to be honest. That is not to say that there hasn't been work done in this arena, just tnat the students were largely unaware of it.
Today's Guardian had an interesting article about digital relationships. It features lots of things about 21st century relational stuff, including a bit on the Ashley Madison dating website, a site focused on creating meeting spaces for those seeking extra-marital affairs (there was also news this week of a research project which discovered a large number of conservative evangelical christians using AM).
The thrust, excuse the pun, of the article is about the potential for digital sex--robots and technolgy capable of providing opportunity for human/machine technology relations--full-on sex that is, let's face it we already have human/technology interactions be they via vibrators or online porn.
The subject of love,sex and relationships is a fascination, as are the challenges of thinking these things through from a theological perspective, or rather engaging in theological dialogue with these ideas and realities. Let's just say that the state of Christian thinking on much of this stuff is naive at best and we have a lot of thinking to do in this regard.
I've been thinkng about this for quite some time and it was this Bjork music video that started the ball rolling seriously for me.